Notice!
Between 1 August and 20 August there will be both manual and mechanical labor on the path between Hageseter tourist cabin and Grimsdalshytta in Dovre National Park. This will cause noise, but it will be safe to hike along the path. To be able to complete the work a helicopter will be used to move machines and equipment into the area, this is set to 1 and 2 August, but can be rescheduled due to weather conditions. During these two days there will be extra personnel to secure safe passage.
Rondane National park
Norway's oldest national park lies between the Gudbrandsdalen and Østerdalen valleys, and stretches from Ringebu in the south to Dovre in the north. The Rondane Mountain Massif towers over wide and lichen-covered mountain plateaus, and is home to one of Europe's last wild reindeer populations.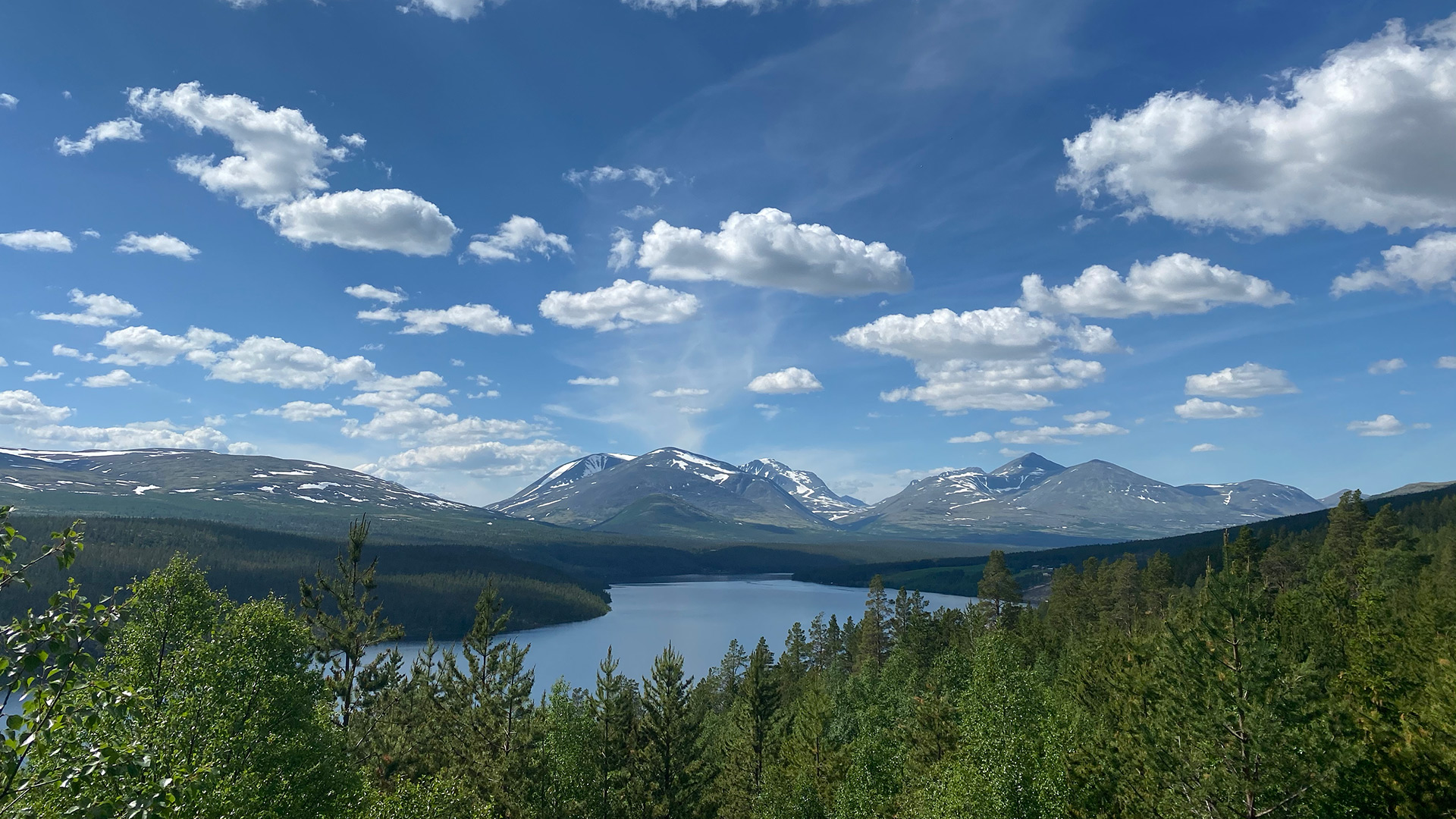 About Dovre National Park
Dovre National Park is located between two valleys in Innlandet County – Gudbrandsdalen valley and Østerdalen valley. The national park is located between the E6 highway over Dovrefjell and Grimsdalen valley, and stretches across 289 square kilometers. Dovre National Park was established in 2003, and together with Rondane National Park and its adjacent protected areas, it is part of a large interconnected mountainous area with important habitats and migratory routes for the wild reindeer.
Experiences and activities
Visitors can experience the mountains during the summer and winter seasons, and there are many activities on offer in the areas surrounding the national park. How about letting an expert guide show you the nicest places? Experience nature on horseback? Or maybe you prefer to glide across miles of groomed cross-country skiing trails?
Advice and rules for visitors
Everyone is welcome to visit Rondane National Park, and the Right to Roam allows us to camp on, roam through and harvest from uncultivated land. At the same time, we have a responsibility and an obligation to not leave any traces behind and take care of our common natural values. Click here for tips on how to enjoy the best possible experiences and the rules that apply regarding the use of bicycles, e-bikes, drones and other things you may have questions about.
Wild reindeer in Rondane
Did you know that wild reindeer helped lay the foundation for the human colonization of what would later become Norway? Currently, we are the only country in Europe that has remnants of the original wild mountain reindeer.
Starting points
There are several nice starting points from which to take trips in Rondane. Here, we have gathered some great alternatives both for those who prefer to enjoy the views without having to strap on their hiking boots, and for those who wish to spend several days in the mountains.
Rondane all year round
The seasons in the mountains are characterized by great variations, and visitors must be prepared to meet snow showers even if the calendar tells us we are in July. Read more about what to expect in the different seasons and what you need to take into consideration.
Accommodation and travel
Wondering about how to get to Rondane or where to stay? There are many possibilities, and chances are you will find an alternative that suits you.
| Title | Address | Description |
| --- | --- | --- |
| | Rondane Nasjonalpark, Norge | |
| | Tjønnbakkvegen 1063, 2670 Otta, Norge | |
| | Grimsdalsvegen 2138, 2662 Dovre, Norge | |
| | Haverdalsvegen 1708, 2662 Dovre, Norge | |
| | Dørålsvegen 1246, 2580 Dovre, Norge | |
| | Dørålsvegen 1246, 2580 Dovre, Norge | |
| | Bjørnhollivegen 810, 2580 Otta, Norge | |
| | Dovrefjell, 2660 Dombås, Norge | |
| | Veslefjellvegen 50, 2632 Venabygd, Norge | |
| | Østkjølvegen 1952, 2647 Sør-fron, Norge | |
| | Fv437 44, 2673 Høvringen, Norge | |
| | Rondevegen 747, 2632 Venabygd, Norge | |
| | Furusjøvegen 3, 2674 Mysusæter, Norge | |
| | Otta stasjon, Otta, Norge | |
| | Otta stasjon, Otta, Norge | |
| | Fv27, 2580 Folldal, Norge | |
| | Tjønnbakkvegen, 2670 Otta, Norge | |
| | Bergsgrende 745, 2662 Dovre, Norge | |
Welcome to Rondane, take care of nature
The Right to Roam gives you the opportunity to go where you want on foot and on skis. By following waymarked trails and staked trails, you help take care of the vegetation and limit the amount of disturbance to wildlife.
Help us take care of nature – advice and rules for visitors
Cycling on regular bikes in Rondane National Park is regulated in the interests of other users, and to avoid terrain erosion and the disruption of wildlife. Cycling in the national park is prohibited, with just a few exceptions. Link to advice and rules for visitors. The use of motorized vehicles is prohibited in the national park, but is permitted along roads in the protected landscapes during certain periods of the year. E-bikes are defined as motorized vehicles. Not all parts of Rondane have cell phone coverage. A good piece of advice is to download the cell phone coverage map for your mobile network before you set off on a trip. All dogs must be kept on a leash between 1 March and 20 August. Pay attention to local rules and always check the regulations of the municipality in question. You are allowed to pick berries, mushrooms and common plants for personal use. You are permitted to pitch your tent wherever you want, as long as it is at least 150 meters away from inhabited houses or cabins. In the interests of wildlife and vegetation, we recommend you pitch your tents in close proximity to tourist cabins. Make sure you don't leave any garbage behind. Bring a small spade in your backpack so you can dig yourself a small toilet hole – not leaving any traces of toilet visits is a lot nicer both for you and for those visiting the area after you. Cultural monuments such as the remnants of old houses, trapping sites and cairns are protected. Do not move stones from old walls. Visitors are permitted to light campfires between 15 September and 15 April. You are allowed to light campfires throughout the entire year in places where there are no obvious fire hazards or risk of forest fires, but please pay attention to local restrictions. Show consideration when collecting firewood. You may hunt and fish in the national park but remember to buy a hunting/fishing license. Clothing and equipment. The weather in the mountains can change very quickly, during both the summer and winter months. You are responsible for assessing the weather, traveling conditions, and your level of fitness and skills. You should always have windproof and waterproof outerwear, hats and mittens when hiking in the mountains. The same applies to maps and a compass. Apart from these items, you need to consider what is necessary in terms of the trip you have planned. Link to advice and rules for visitors.