| Title | Address | Description |
| --- | --- | --- |
| | Rondane Nasjonalpark, Norge | |
| | Rv27 730, 2477 Sollia, Norge | |
| | Formokampen, Sel, Norge | |
| | Mysusæter, Norge | |
| | Hjerkinnhusvegen 33, 2661 Hjerkinn, Norge | |
| | Grimsdalsvegen 2122, 2662 Dovre, Norge | |
Norwegian Scenic Route Rondane
The Norwegian Scenic Route Rondane is one of 18 selected roads in Norway. The road follows the eastern side of Rondane National Park and runs through cultural landscapes and the majestic mountain massif. The drive alongside the blue mountains is an adventurous journey through nature, culture and geology.
Sohlbergplassen
Sohlbergplassen in Atndalen valley is located at the exact spot where Sohlberg painted 'A Winter's Night in Rondane'. The design of the vantage point is an experience in itself. We encourage everyone when passing through Atndalen valley to stop and enjoy the vantage point and the stunning views over Rondane National Park.
Formokampen mountain 1428 masl
How about a trip rich in history and with stunning views? If you choose to visit Formokampen mountain, you will experience views over four national parks while getting to walk in the footsteps of trappers who lived over 1000 years ago.
During the trip, you will see ancient pit-fall traps, small cairns and the remnants of hunting hides – close your eyes and imagine how the Vikings lay in wait as the wild reindeer came galloping over the mountains.
Read more
Start your trip from
Høvringen
or Putten seter
 and follow the waymarked trails to the summit.
A mountain finder plate has been permanently mounted at the summit so visitors can find out what the surrounding mountains are called. The hike to the top is a relatively easy one and suitable for the whole family, but remember that it is a steady climb almost all the way.
Duration: round trip of approximately 4 hours
Kilometers: From Putten Seter: 9 km round trip
From Høvringen: 13 km round trip
Suitable for: People of average fitness
Read more about the trip at National Park Kingdom
Trips from Mysusæter
Mysusæter is a traditional cabin and mountain hamlet and a popular approach to Rondane both during the summer and winter. From here, visitors can walk to 'The Bridal Veil', which is a waterfall in Stor-Ula, or take one of the other great walks in the surrounding area.
Read more at loyelaget.com
Cycling
Exploring Rondane from your bike seat can be an amazing experience. Due to its many vulnerable natural environments, there are few places in the national park where cycling is permitted. However, there is a multitude of possibilities in the surrounding areas where the views are magnificent. Here, visitors may use both e-bikes and regular bikes during summer and winter.
Click here for tips on where it is nice to ride bikes, and to get an overview of applicable rules.
Winter trips and skiing trips
With both staked and machine-groomed trails, Rondane has everything in place for fantastic winter trips. We recommend you use mountain skis where the trails are staked, while narrow skis are just as good to use on the machine-groomed trails. Winter is the coldest period of the year, so it is important to wear clothes that are both warm and windproof.
The basis of existence for both animals and plants is marginal during this time of the year. Although the animals are evolved to withstand harsh conditions, winter is demanding. Therefore, it is important that we show consideration so they do not have to use valuable energy fleeing from humans visitors.
2000 meter peaks
There are not many places where it is possible to reach as many peaks on a day trip as you can in Rondane. There are as many as ten that rise 2000 meters above sea level, and half of them can be reached by hiking along t-marked trails. The peaks we have listed here are safe to climb and easily accessible on the one side, while ending in dizzying heights and bottomless plunges on the other.
Tips! Bring plenty of water, there are not many places to fill your water bottle. Remember that the weather changes very quickly! Dress for changing weather – woolen hats and mittens regardless of the season. Don't forget maps and a compass!
Norwegian Wild Reindeer Centre – Fjellportalen
Did you know that wild reindeer played a central role when the first settlers arrived in Norway? Fjellportalen at Hjerkinn provides visitors with information about the fascinating primeval animal and an insight into an important part of Norwegian history. Here, visitors can test their knowledge about wild reindeer by taking one of the quizzes, look at and touch a stuffed reindeer and study a real skeleton – both of which were animals that roamed the nearby mountains. In the outdoor area, visitors can see how humans used the mountains in ancient times through reconstructed trapping devices, or take a break in the constructed 'mountain scree'. The center is open and accessible 24 hours a day during the summer season (1 June – last week of autumn holiday).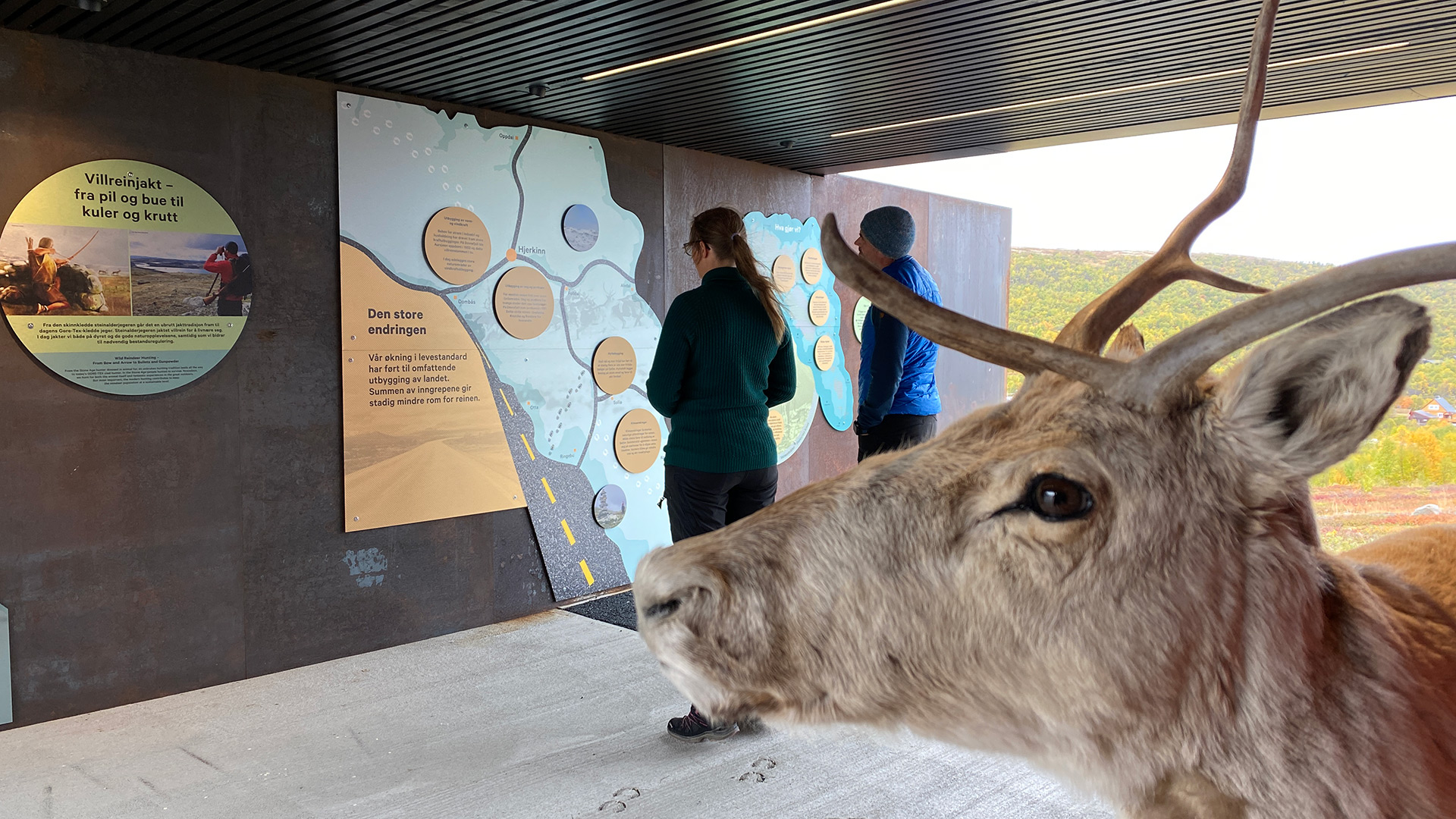 Trekanten
The triangle
If you have four or five days at your disposal and want to experience Rondane National Park at its best, you really should try this classic triangle: Rondvassbu, Dørålseter, Bjørnhollia. The trip takes you around the national park's largest continuous mountain range, separated by Rondvatnet lake, Illmanndalen valley and Langglupdalen valley. Feel free to start the trip by cycling or walking to Rondvassbu from Mysuseter, or from the parking lot at Spranget.
Duration 4 days
Kilometers: 60.5
Suitable for: Everyone who is used to physical activity
Read more about the Rondane triangle at Ut.no
Horseback riding in the mountains and at Rondane
Viewing nature from horseback is a very special experience that suits most people, regardless of how much expertise you have. Here you will find everything from half-day trips to week-long stays.
Guided tours
Get more out of your mountain hike by using local guides. A guide makes your trip both safer and more eventful – maybe you will learn something completely new!
Dog sledding
How about experiencing the mountains from a dog sled? Visitors may choose between sitting on the sled or standing at the back on the runners. Whatever you choose, you will definitely get something to remember for the rest of your life! Dog sledding is an activity that everyone can take part in. .
Fishing
Both trout and Arctic char can be found in rivers and lakes in the national park. Rondvatnet lake is one of the most popular fishing lakes, and great fishing spots can be found close to Rondvassbu. Another good fishing lake is Atnsjøen lake which is located towards Rondane. Each year, trout between two and four kilos are caught here, and Arctic char around half a kilo are not uncommon. Atnsjøen lake is a good place to fish during both the summer and winter. Visitors can purchase fishing licenses at intatur.no and at many of the tourist companies in the area.