| Title | Address | Description |
| --- | --- | --- |
| | Fv27, 2580 Folldal, Norge | |
| | Fv437 106, 2673 Høvringen, Norge | |
| | Fv437 106, 2673 Høvringen, Norge | |
| | Tjønnbakkvegen, 2670 Otta, Norge | |
| | Otta stasjon, Otta, Norge | |
| | Ringebu stasjon, 2630 Ringebu, Norge | |
Strømbu
Strømbu rest stop in Atndalen valley is located on the banks of the Atnelva river and is the main approach to Rondane from the east. Here, visitors can enjoy the view from the roof terrace
, walk along one of the adapted routes
in the area, follow the trail into Bjørnhollia tourist cabin (approximately 2 hours) or continue further on to Rondvassbu (approximately 6 hours).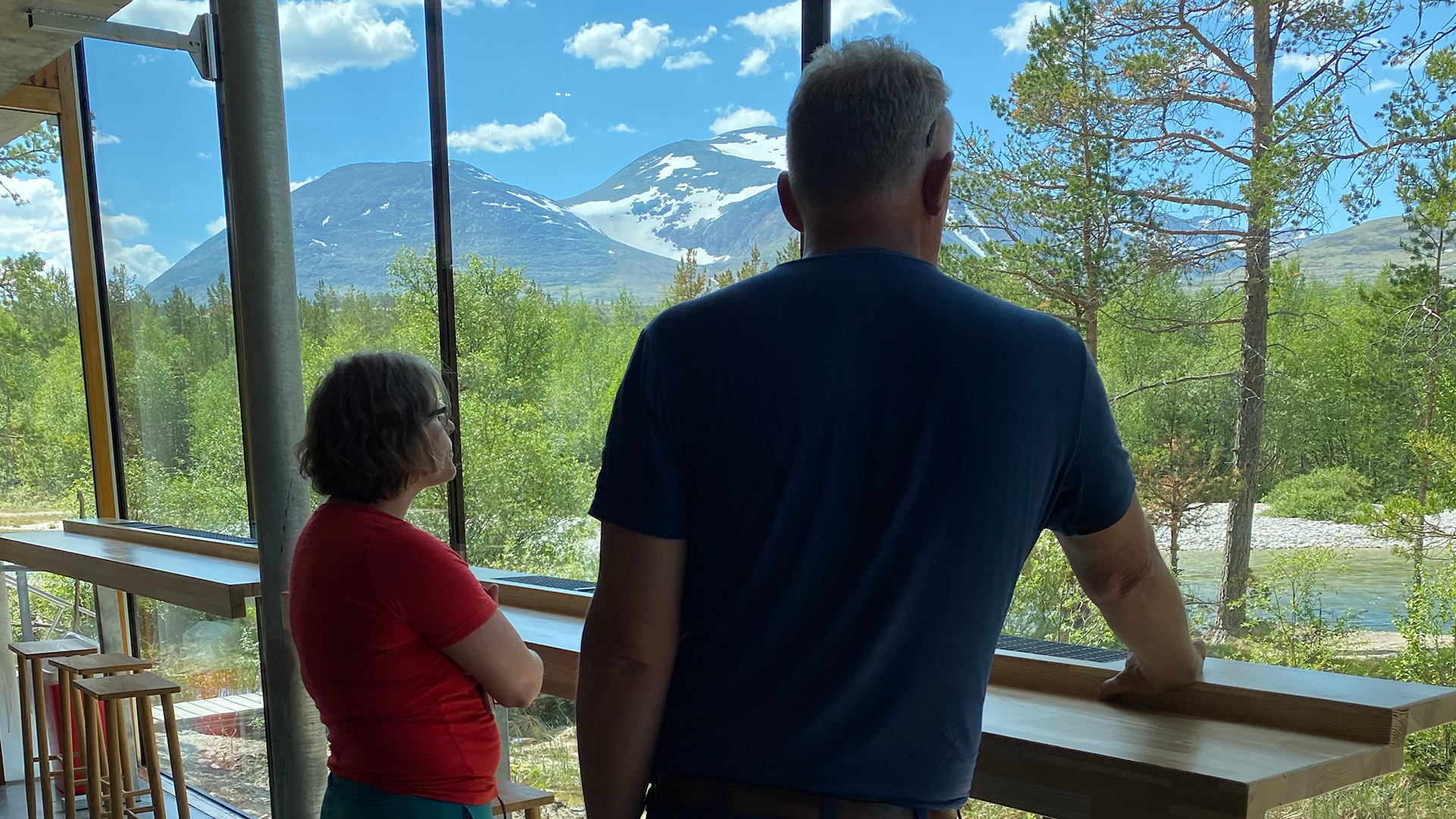 The facilities consist of a parking lot, handicap-friendly toilets, a heated room and a roof terrace with seating. During the summer months, the rest stop also houses a tourist information desk, a kiosk, and canoe and bicycle rental.
Access:
Strømbu is located next to county road Fv 27, with access from Ringebu in the south, Alvdal-Folldal in the northeast and Hjerkinn-Folldal in the northwest.
Charges:
Parking charge: Free of charge. If you need to park over several days, we ask that you use the outermost parking spaces to the south. Toilet charge: Free of charge Overnight stays in the parking lot with a caravan/motorhome/tent: Yes
Opening hours/period:
Parking lot: Accessible throughout the snow-free season and is cleared of snow during Easter Toilet and heated room: Open 24 hours a day from Easter to late October. Tourist information, kiosk and rental: From 10:00 to 17:00 every day between 20 June and 20 August Strømbu was designed by Carl-Viggo Hølmebakk and is a signaling station for the Norwegian Public Roads Administration which was opened in 2008.
More info at rondanevegen.no
Høvringen
The mountain hamlet of Høvringen is located 1000 meters above sea level and is a great starting point for the whole family to experience the area, all year round. The hamlet offers many places of accommodation in the form of cabins and mountain lodges, and also has shops and cafés. Visitors can park at Grotløkken parking lot or next to Putten Seter, and both places are facilitated with information, tables and benches, but not toilets. Both parking lots are good starting points for the trip to Formokampen mountain (1.5 to 2 hours to the top). Visitors can hike along the well-established trail in the footsteps of trappers who hunted wild reindeer a thousand years ago.
During the winter season, Høvringen boasts 150 km of groomed cross-country skiing trails that run through varied terrain and offer spectacular views over Rondane. See
skisporet.no for trail maps and trail status/conditions.
Access:
Høvringen is clearly signposted from the E6, exit north of Otta.
Opening hours/period:
The parking lot is open all year round
Charges:
Parking charge: Grotløkken parking lot: Yes, per day or season ticket. You may pay using the Vipps app or with cash. Putten seter: Toll road. Payable with Vipps or cash. Overnight stays in the parking lot with a caravan/motorhome/tent are permitted
More information about parking
Skiing trail status at Høvringen
Mysusæter
It is only a short distance from Mysusæter to Rondane, and the trail network offers exciting and varied terrain during summer and winter. There is a large parking lot that includes short-term parking for motorhomes, accommodation, toilet facilities with a water filling and emptying station for motorhomes, and a shop and café.
There are many hiking opportunities in the area, but how about taking a trip to the famous 'Bridal Veil' waterfall (1.5 to 2 hours one way) or to Gråhø (30-45 minutes one way), both of which have the great combination of a short hike and fantastic views!
During the winter season, visitors can swoop down the slopes at Rondane Ski Resort or ski for miles on groomed cross-country trails.
Opening hours/period:
Parking lot: Open all year round
Toilet: Open from just before Christmas until after Easter, and from the school holidays to mid-October
Spranget
Spranghaugen, also called Spranget, in Frydalen Protected landscape is a summer parking lot. From here, visitors can walk or cycle 6 kilometers to the southern end of Rondvatnet lake. This is where Rondvassbu tourist cabin is located, a fantastic starting point for many of Rondane's 2000 meter high peaks.
Bike rental
Rental bikes for both children and adults (including helmets) can be found in the parking lot at Spranget. It is also possible to rent bikes at Rondvassbu and cycle to Spranget.
More information about bike rental
Access:
Drive to Mysusæter, located at the end of county road Fv 44. Then, turn left on Tjønnbakkvegen road until you reach the parking lot. There is a bus route from Otta during the summer season.
Charges:
Parking charge: No, but there is a charge when driving on Tjønnbakkvegen road. This is to be paid at the toll booth using either cards or cash.
Bike rental: payable using the Vipps app
Overnight stays in the parking lot with a caravan/motorhome/tent: Visitors are encouraged to park motorhomes and caravans at Mysuseter where there are toilets and waste disposal.
Opening hours/period:
Parking lot: Summer, 15 June – 1 November, subject to weather/driving conditions.